Metadata Editor is web based application that allows metadata to be changed or management of existing files. Additionally, the user can validate the file in the adopted metadata profile and publish the metadata in the metadata directory.
Function tools are available through implemented web based graphical interface (operated by web browser).
The new tool is an extension of the previous version of the EGiB metadata editor. The new version of the tool supports three general metadata profiles of PZGiK, INSPIRE, ISO and several industry profiles, e.g. ORTO, BMT, EMUiA, EGiB, ZOBRAZOWANIA.
New Metadata Editor provides the following functionality:
public Access – no login needed (in the case of metadata which are not published in Geoportal catalogue)
"thin client" tool available on-line
integration with the Geoportal catalogue server
support for multiple metadata profiles (INSPIRE, ISO)
There is a diagram below presenting metadata editing services. Functional model recognizes appropriate group of application services that perform separate tasks like components of IT systems.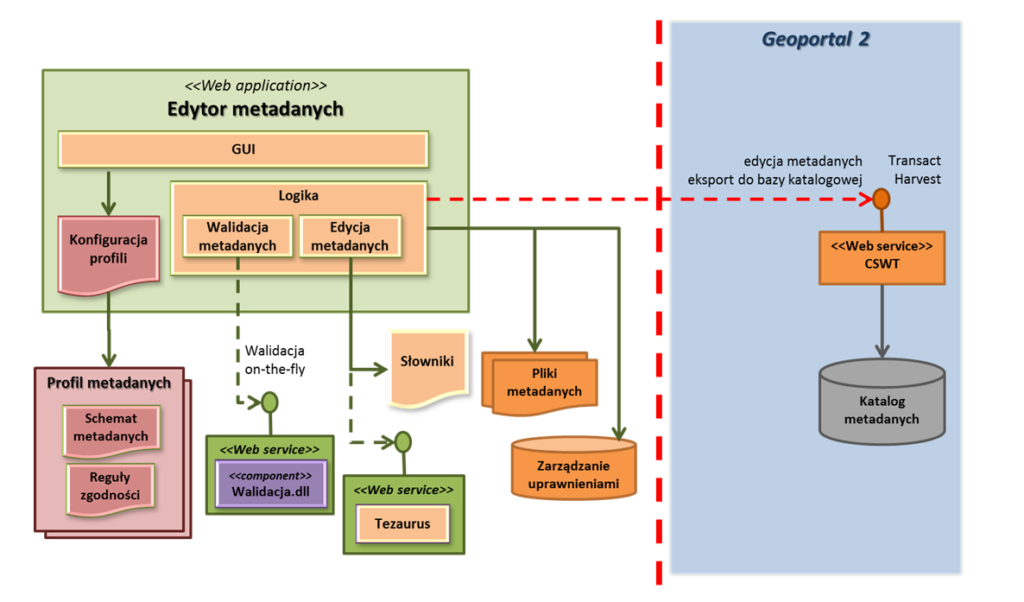 The application is available at the website: http://edytor.geoportal.gov.pl/EdytorMetadanych/ .Currently, editor's publication is blocked until the full integration of the editor with catalog server, made under the contract of implementation.
The walidator is available through two interfaces: