The Detailed Control Network Database (BDSOG) is maintained by the heads of counties, which means that there are 380 units responsible for the maintenance of this database. BDSOG contains information concerning points of detailed horizontal and vertical geodetic control network for the area of the specific county, including sets of observations made in order to determine characteristic values for these points, together with the results obtained by processing this information, and topographic descriptions.
BDSOG data is updated in line with the geodetic technical documentation made in connection with establishing or maintaining detailed geodetic control networks within each of the counties, and based on the information about the status of the geodetic mark checked by the relevant unit of the National Geodetic and Cartographic Service.
The legal basis for creating, updating and sharing data, as well as for the scope of information collected in BDSOG is the Regulation of the Minister of Development, Labour and Technology of 6 July 2021 on geodetic, gravimetric and magnetic control networks (Journal of Laws of 2021, item 1341).
The Head Office of Geodesy and Cartography (GUGiK) has integrated the publication of the Detailed Control Network Database from all the counties within an aggregate KISOG service at www.geoportal.gov.pl. This has allowed providing general access to data via web services to enable the use of control network data in the national information systems and systems created by commercial companies. KISOG is an aggregate WMS intended for generating maps with a detailed geodetic control network for any area of the country. The concept of the KISOG is presented in the diagram below (Fig. 1).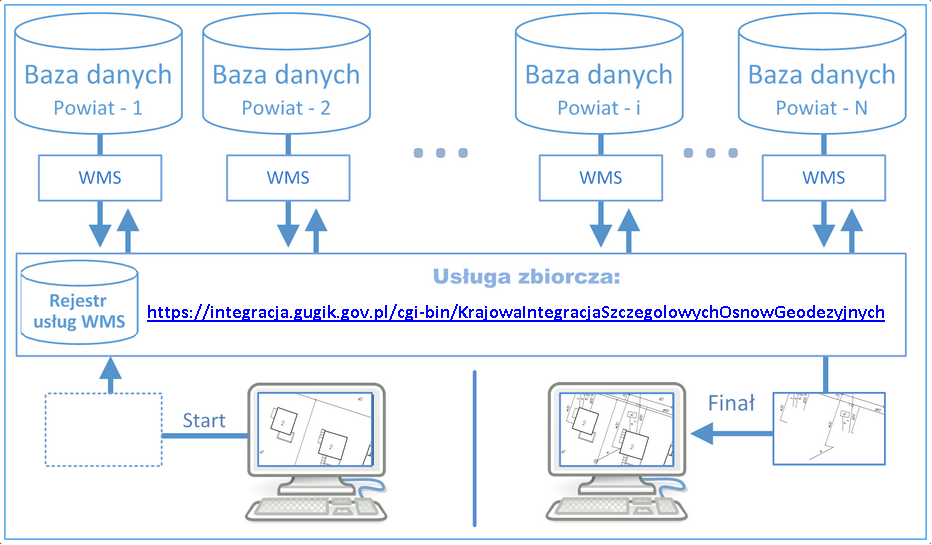 An example of an image obtained from the service is shown below (Fig. 2).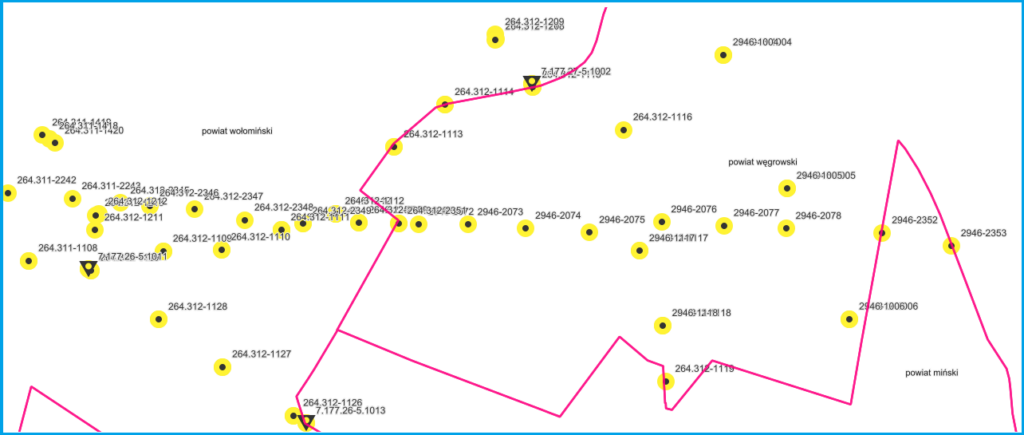 For technical details regarding the service, see:
https://integracja.gugik.gov.pl/cgi-bin/KrajowaIntegracjaSzczegolowychOsnowGeodezyjnych.
Availability of BDSOG browsing services
To browse detailed geodetic control network data, go to www.geoportal.gov.pl, where the aggregate WMS service is connected and adequately configured in a way that allows users to browse detailed geodetic control network data in the context of other useful spatial information.
You can show and hide points on the "Detailed control network" layer while viewing data at the scale of 1:25,000 or larger by manually selecting this layer to display (Fig. 3).
This service can also be connected using any software with WMS client component (see: https://integracja.gugik.gov.pl/cgi-bin/KrajowaIntegracjaSzczegolowychOsnowGeodezyjnych). The results obtained by connecting the service in QGIS are shown in Fig. 4.