The National Register of Basic Geodetic, Gravimetric and Magnetic Networks (PRPOG) contains information, data (including archived data), collections of observations, and elaborations of observation results concerning points of basic geodetic, gravimetric and magnetic networks for the entire country. PRPOG collects data concerning points of relevant control networks as well as sets of observations made in order to determine the characteristic values for these points together with the results obtained by processing this information. Moreover, this database also includes topographic descriptions and pictures of the aforementioned points taken during recent geodetic works.
PRPOG data is updated in line with the geodetic technical documentation made in connection with establishing or maintaining basic geodetic, gravimetric and magnetic networks, and based on the information about the status of the geodetic mark checked by the relevant unit of the National Geodetic and Cartographic Service.
The legal basis for creating, updating and sharing data, as well as for the scope of information collected in the PRPOG database is the Regulation of the Minister of Development, Labour and Technology of 6 July 2021 on geodetic, gravimetric and magnetic control networks (Journal of Laws of 2021, item 1341).
Points of the PRPOG database are displayed at www.geoportal.gov.pl in line with the user-defined scope (Fig. 1).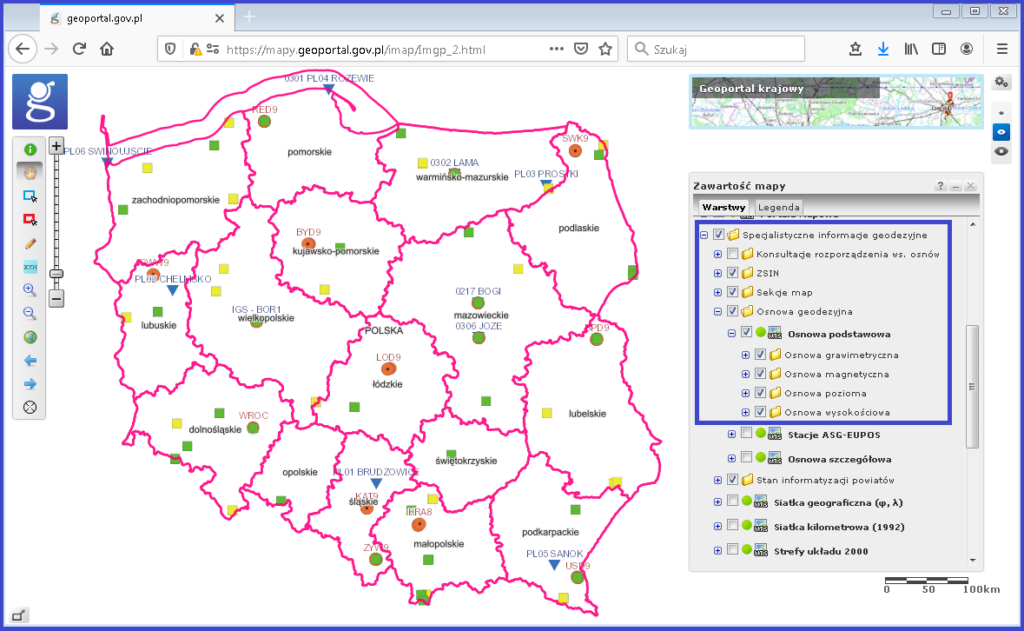 Availability of PRPOG browsing services
PRPOG data can be browsed via WMS which is by default connected to www.geoportal.gov.pl. However, this service can also be connected to any software that supports such standard. It can be accessed at: https://mapy.geoportal.gov.pl/wss/service/pub/guest/G2_OSNOWA_WMS/MapServer/WMSServer.
Information on all services related to the PRPOG managed by the Head Office of Geodesy and Cartography can be found in the main menu of www.geoportal.gov.pl under tab "Services / View services (WMS and WMTS)" (Fig. 2).
An example of the application of the PRPOG browsing functionality in QGIS is shown in Fig. 3.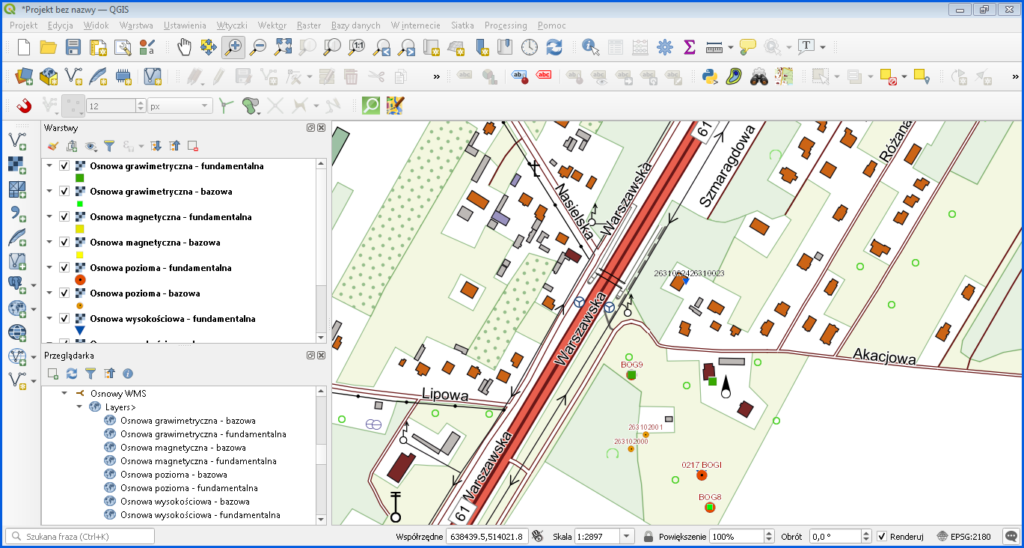 Availability of PRPOG data for download
PRPOG data is provided free of charge and can be used for any purpose. To download data, go to www.geoportal.gov.pl, section "Data for download", select the "Geodetical network" folder, and then select the "Basic Geodetic Network" layer. Enable this layer and click any area of Poland to access the data for download regarding the county that the clicked location belongs to, concerning the basic horizontal and vertical geodetic network, including lists of coordinates, lists of leveling lines, and topographic descriptions of the relevant points (Fig. 4).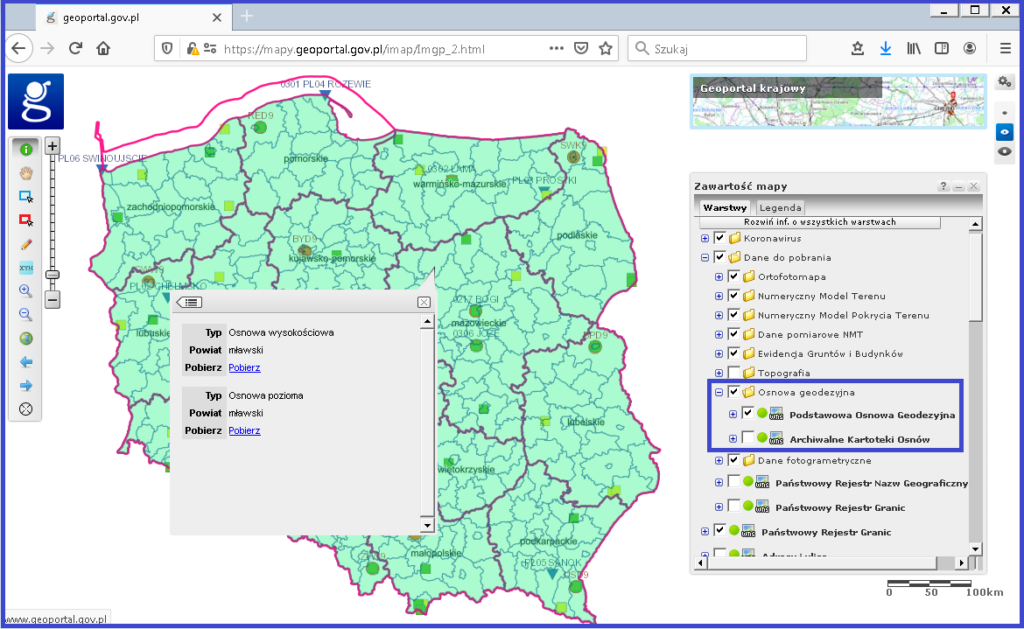 PRPOG data packages at https://integracja.gugik.gov.pl/cgi-bin/PodstawowaOsnowaGeodezyjna are downloaded via WMS: www.geoportal.gov.pl, specifically via the GetFeatureInfo feature which shares the relevant county package for download in the clicked location. If you connect this service to any software that supports the WMS standard (e.g. QGIS), you can download PRPOG data directly in such software (Fig. 5).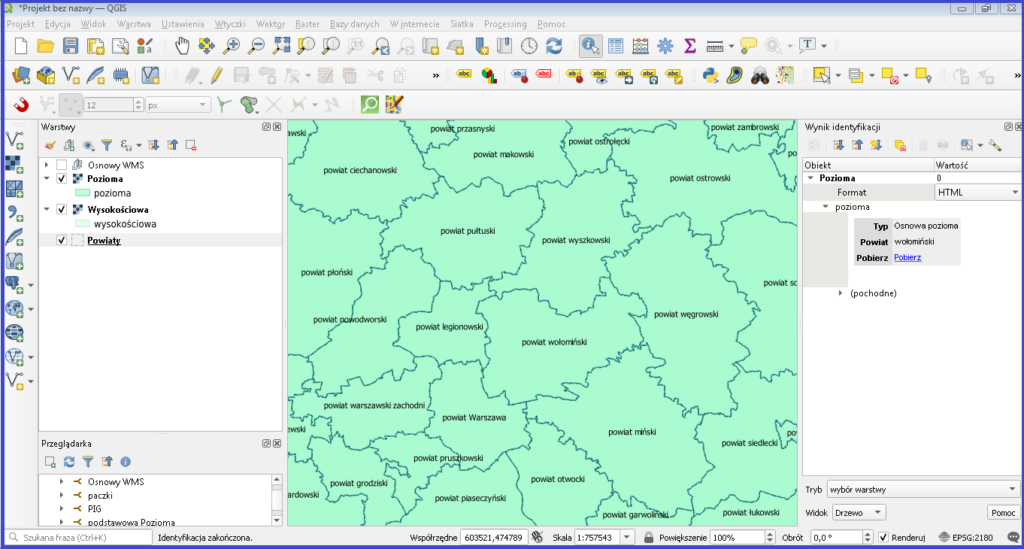 PRPOG data can also be accessed via the Web Feature Service (WFS) which is intended for downloading vector data based on user-defined criteria. GML format is used for data transfer. To access the service, go to: http://mapy.geoportal.gov.pl/wss/service/pub/guest/G2_OSNOWA_WFS/MapServer/WFSServer.
Figure 6 shows how to define a data source from the specified WFS in QGIS to conveniently add data from this service as a layer in any QGIS project at any time.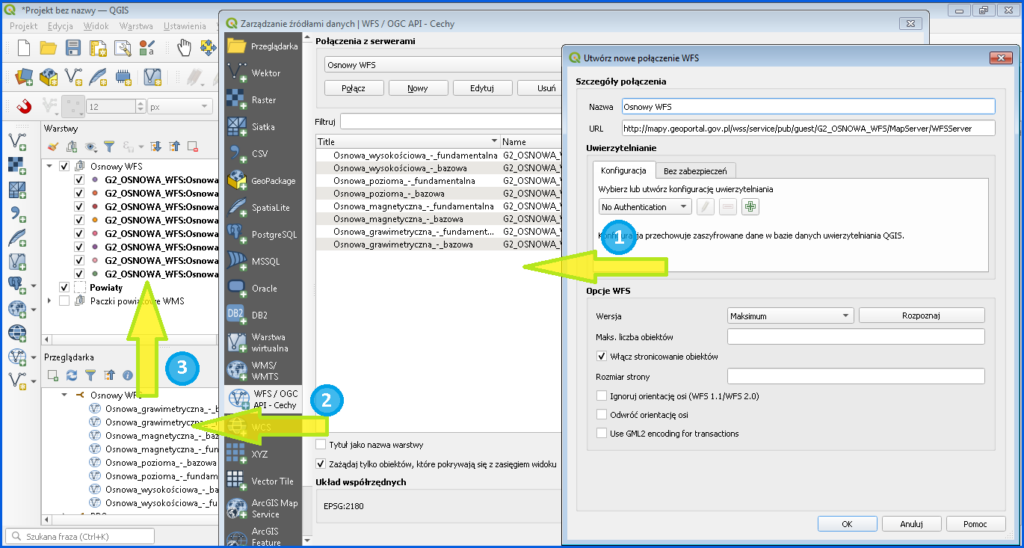 Steps illustrated in Fig. 6 allow defining a WFS-based PRPOG data source which provides data from the PRPOG database for use. Drag the selected data to the project legend to create a thematic layer in QGIS from the displayed data.
Data connected via WFS is automatically downloaded to your computer, and QGIS has access to all the offered attributes, as illustrated in Fig. 7.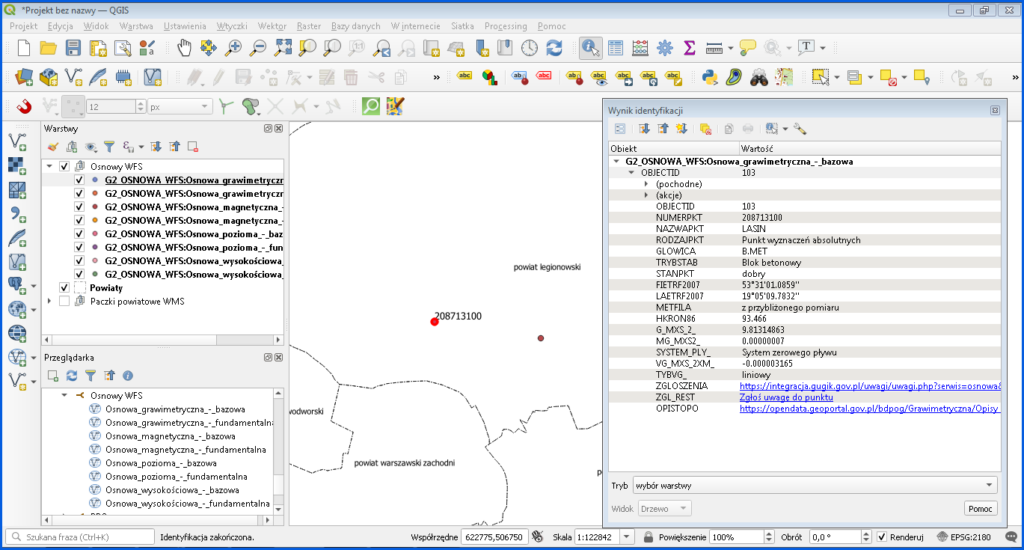 If you want to save data of the information layer to an external file, use the standard export functionality which can be found at each information layer in QGIS (Fig. 8). It allows you to save data in various formats, depending on the layer type.